Promoting Gender Justice on Global Garment Supply Chains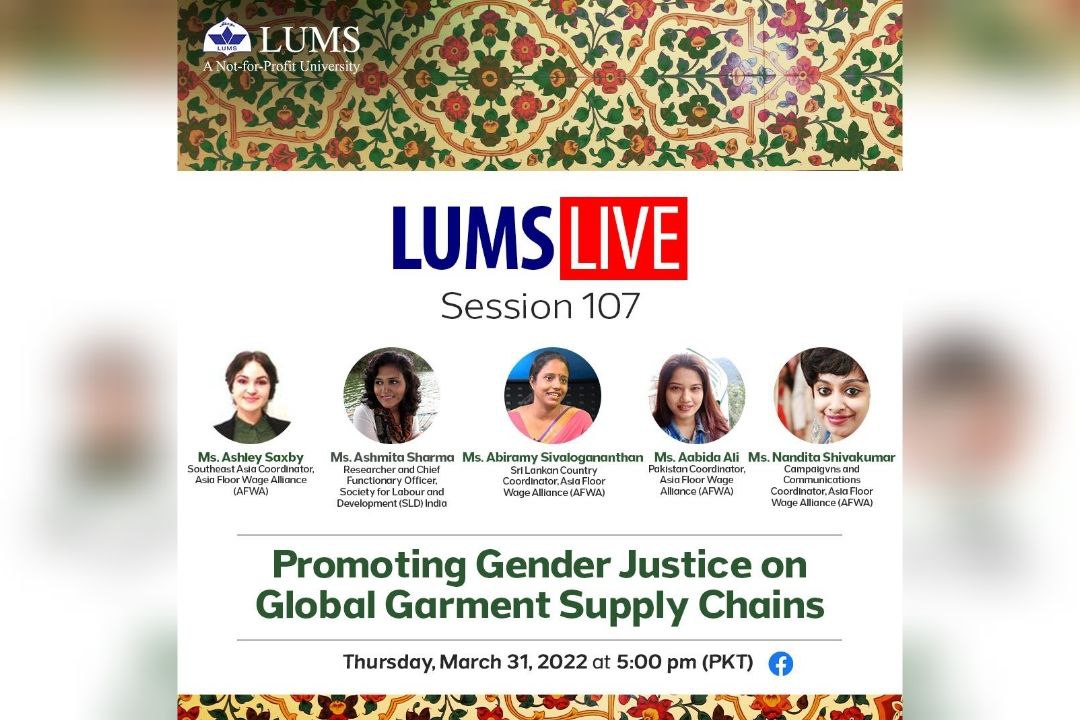 Promoting Gender Justice on Global Garment Supply Chains
167
167 people viewed this event.
The Asia Floor Wage Alliance and the Saida Waheed Gender Initiative of the Lahore University of Management Sciences (LUMS), Pakistan, are co-hosting a panel discussion on March 31, on advancing gender justice in supply chains and the role of global fashion brands in doing so.
Time: 5 pm PKT / 5:30 pm IST / 7 pm ICT
The panel will be moderated by the Communications and Campaigns Coordinator at AFWA, Nandita Shivakumar, on the topic of the wage crisis in the garment industry and the panelists are:
Pakistan Country Coordinator at AFWA, Aabida Ali;
Sri Lanka Country Coordinator at AFWA, Abiramy Sivalogananthan;
Researcher for Society for Labor and Development (SLD), New Delhi, Ashmita Sharma;
South East Asia Coordinator of AFWA, Ashley Saxby.
The event will be live-streamed on the Facebook page of LUMS, Pakistan.
Event registration closed.
Date And Time
31-March-2022
to
31-March-2022
Registration End Date
31-March-2022
Share With Friends
Organizer
The Asia Floor Wage Alliance (AFWA) was founded in 2007 as an Asian labour-led global labour and social alliance across garment-producing countries in Asia and consumer regions of USA and Europe. Founded in 2007, AFWA builds regional unity among Asian garment unions to overcome the limitations of country-based struggles in global production networks and holds global fashion brands accountable.