One Year After Signing of Dindigul Agreement, Workers Report Major Improvements in Combating Workplace GBVH
Dindigul, Tamil Nadu, India (June 28, 2023): In the first year, 98% of grievances were resolved, including all GBVH cases
One year after the signing of the historic Dindigul Agreement, a new report documents how major global fashion companies, a clothing and textile supplier and labor organizations have empowered women garment workers including migrants in India to respond to and eliminate gender-based violence and harassment (GBVH) and caste-based discrimination and win more rights in their workplace.
Read the report here.
In 2022, global brands H&M Group, Gap Inc. and PVH Corp. along with Eastman Exports and Tamil Nadu Textile and Common Labour Union (TTCU), the Asia Floor Wage Alliance (AFWA), and Global Labor Justice-International Labor Rights Forum (GLJ–ILRF) committed to joint accountability to end GBVH at Eastman factories in Dindigul, Tamil Nadu, India. 
In the first year of the agreement, reports from workers and other data show that a worker and union-led model created positive impacts for women workers that have surpassed even the bold predictions by the committed parties in meaningful and measurable ways.
From April to December of 2022, workers using the provisions of the Agreement raised 185 grievances: 
177 (96%) were raised by women

98% of the 185 grievances workers raised at the factory were resolved

90% of grievances were resolved within a week

All 23 GBVH cases raised were resolved 

Over 30 union-management meetings to resolve grievances held at the worksite.

58 worker shop-floor monitors were trained to identify GBVH and accompany workers in the grievance process

Over 2,000 workers and management were trained on GBVH and the terms of the agreement, including senior management, support staff and contract bus drivers.
"I was one of the first women who used the grievance redressal mechanism of the Dindigul Agreement to report gender-based violence … As a veteran in this industry, I still cannot believe I received justice; and I know that this would have never happened had the Dindigul Agreement not been signed, and the union had not been present on the factory floor. I really want to continue working for this factory now," said garment worker Amalajyoth, who maintains the feeding record in the garment unit. 
The Dindigul Agreement enables women to have a collective voice, agency and power in their workplace and in the fashion supply chain. The report highlights how the decisive and timely remediation of GBVH under the Agreement has also led to the successful remediation of other types of labor violations under national law regarding minimum wages, payment of social security, workplace hazards, and other workplace conditions. 
The development of a multi-tier bottom-up survivor-centered GBVH identification, prevention, and remediation system, along with mature industrial relations has also helped Eastman Exports increase worker efficiency by 16%, increased reporting to work on time by 4.3%  and has reduced attrition rate by 67% between 2021 and 2022.
"The agreement has created a space of social dialogue between the union and the management of Eastman Exports. This has enabled us to help both workers and management improve working conditions as well as the efficiency of production. Transparent conversations are happening between management and workers– leading to fewer conflicts, mature industrial relations and improved trust and confidence in management among workers," said Thivya Rakini, TTCU President.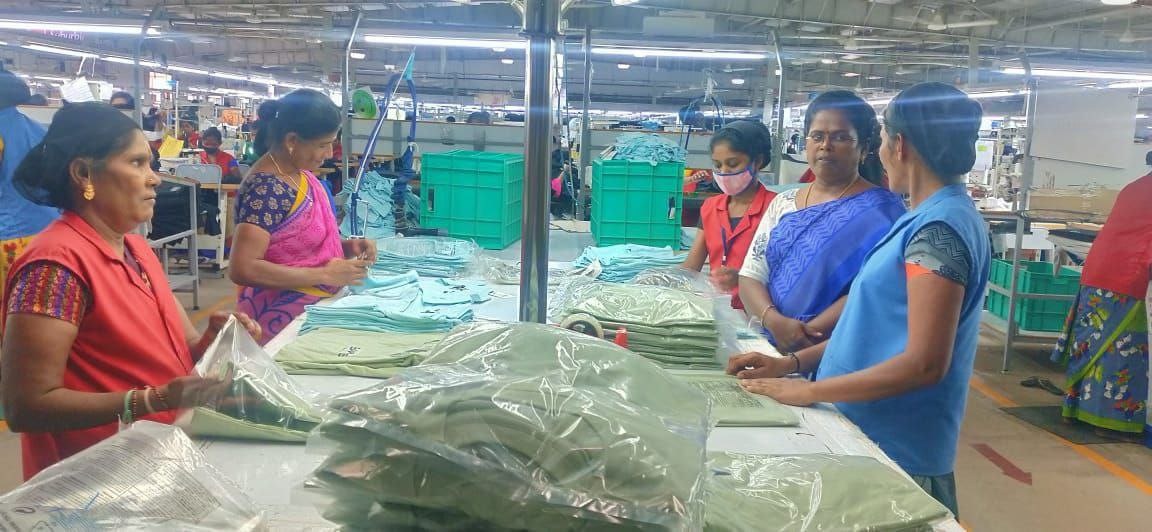 "We value the work put in by the organizations, and together, we have come a long way. We believe in an employee-first culture and will continue to imbibe best practices at work. We firmly believe in fostering a healthy and supportive environment, where every employee feels heard, respected, and valued. We remain steadfast in our commitment to ensuring fair treatment, equitable opportunities, and a supportive workplace for our valued workforce," said Cibi Karthic, Director, Eastman Exports. 
"The Dindigul Agreement addresses the fundamental power imbalances within the factory floor and gives the victims and survivors of GBVH an opportunity to remediate GBVH, based on their lived experiences. This democratizes workplaces, improves the retention of women workers, and increases work efficiency and worker well-being. This is why we believe the Dindigul Agreement is a model that works for workers, suppliers and brands alike," said AFWA International Coordinator Anannya Bhattacharjee. 
The role fashion brands play in the Dindigul Agreement makes it especially effective.
​​"Using ILO C-190 definitions and concepts and centering women's agency in grievance handling and remediation, the Dindigul Agreement has shown what works," said GLJ-ILRF Executive Director Jennifer (JJ) Rosenbaum. "Investors and brands who are serious about their human rights due diligence obligations have a model for responding to the gender-based violence and systemic discrimination in garment supply chains that employ over 94 million workers globally."    
The Dindigul Agreement's impact has gone beyond GBVH prevention with many positive echoes in the factory: creating better jobs that promote equity and a democratic workplace culture; preventing other kinds of rights violations; joint problem solving between workers and management; meaningful remediation as defined by women workers; and appropriate roles for the union, supplier and fashion brands. In addition, the U.S. Government has recognized that the Dindigul Agreement strengthened supply chain accountability and provided meaningful remediation from forced labor indicators. 
The many positive impacts in its first year make clear that the Dindigul Agreement is a model for unions, suppliers, brands, and investors committed to preventing GBVH, promoting the agency and empowerment of women garment workers, and eliminating forced labor. 
The Program Agreement text is available as an appendix to the report. 
The Agreement was signed in honor of the loss of a young garment worker, TTCU member, and Eastman employee, Jeyasre Kathirvel, whose life was tragically cut short as a result of GBVH. 
Read the report here.
###
Tamil Nadu Textile and Common Labour Union (TTCU) is an independent, Dalit women-led trade union of textile workers organizing to end GBVH, wage theft, and caste-based violence in garment factories.  
Asia Floor Wage Alliance (AFWA) is an Asian labour-led global labour and social alliance across garment-producing countries (such as Bangladesh, Cambodia, India, Indonesia, Pakistan, Sri Lanka) and consumer regions (USA and Europe) for addressing poverty-level wages, gender-based violence, and freedom of association in global garment production networks. Contact: Nandita Shivakumar, AFWA, nandita.s@asia.floorwage.org
Global Labor Justice – International Labor Rights Forum (GLJ – ILRF) is a non-governmental organization that works transnationally to advance policies and laws that protect decent work; to strengthen freedom of association and workers' ability to advocate for their rights; and to hold corporations accountable for labor rights violations in their supply chains. Contact: Rachel Cohen, GLJ-ILRF, racohen78@gmail.com