Can Fashion be Anti-Capitalist? | Book Launch Event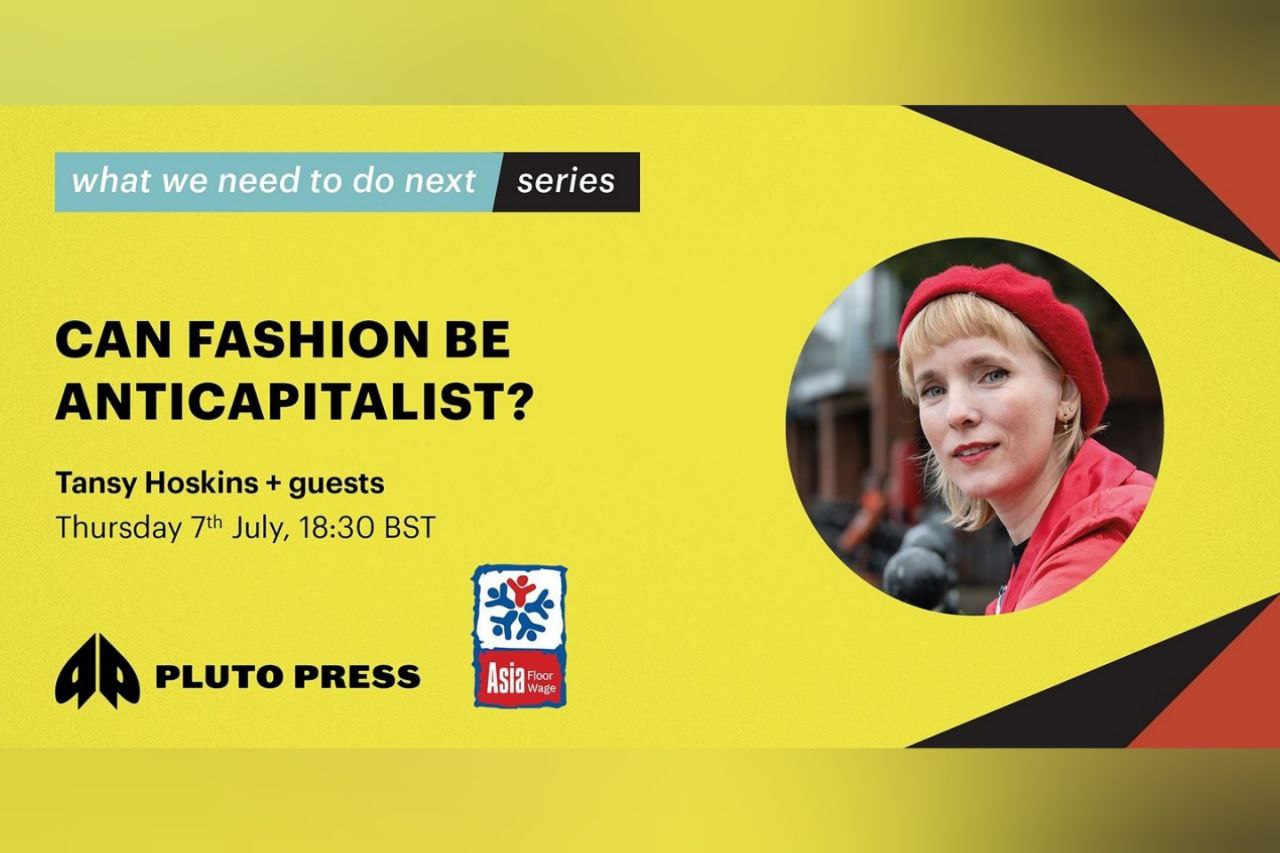 Can Fashion be Anti-Capitalist? | Book Launch Event
422
422 people viewed this event.
The fashion industry swindles us all. Brands entice us to consume more by manipulating us to feel ugly, poor and worthless, and these sentiments line the pockets of billionaires. Workers in Bangladesh put their lives at risk in dangerous factories, animals are tortured and toxic chemicals are spread just to keep this season's collections fresh. Can this vast industry be redeemed?
In the penultimate event of the 'What we need to do next' series curated by Pluto Press, author Tansy E. Hoskins and Asia Floor Wage Alliance present the book launch of 'The Anti-Capitalist Book of Fashion.' There will be a Q&A section at the end.
Date & Time: July 7, 6.30 pm BST / 11 pm IST / 12.30 am ICT
In this event, the speakers will answer:
How is fashion political?
Who makes our clothes and how does it affect the planet?
How ethical is 'ethical fashion' and is it the answer?
Follow the event on Facebook: https://www.facebook.com/events/736311673953177
Speakers:
Tansy E. Hoskins is an award-winning journalist and author who investigates the global fashion industry. This work has taken her to Bangladesh, Kenya, Macedonia, and to the Topshop warehouses in Solihull. She is the author of three books including 'The Anti-Capitalist Book of Fashion' (Pluto Press) and 'Foot Work – What Your Shoes Tell You About Globalisation'.
Nandita Shivakumar is the Campaigns and Communications Coordinator at Asia Floor Wage Alliance. She also acts as an advisor to the Tamil Nadu Textile and Common Labour Union (TTCU), a Dalit women-led trade union of 11,000 textile workers in the South Indian state of Tamil Nadu.
Chair Yara Rodrigues Fowler is from South London. Her first novel, 'Stubborn Archivist', was released in 2019 and nominated for several prizes, including the Dylan Thomas Prize and the Sunday Times Young Writer of the Year Award. Yara's second novel, 'there are more things,' is shortlisted for the George Orwell Prize for Political Fiction. Yara is also a part-time climate justice organiser.
—
'The Anti-Capitalist Book of Fashion' is available to order from the Pluto Press website – use the discount code NEXT20 at the checkout for 20% off exclusive to attendees of this event.
—
The 'What we need to do next' event series hosted by Pluto Press will confront some of the burning issues affecting the world right now, from why work sucks to ending carceral feminism. Each discussion will give you grounding in the subject at hand and provide the tools you need to join the struggle.
Date And Time
Event Types
Share With Friends