OECD Side Session: Transforming the Garment Sector with Brand Accountability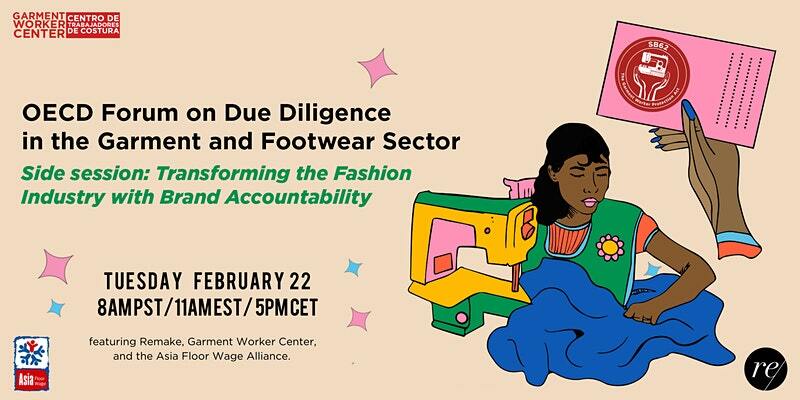 OECD Side Session: Transforming the Garment Sector with Brand Accountability
123
123 people viewed this event.
A discussion on joint liability for wage theft, comparing California's SB62 and AFWA's work on legal liability for wage theft across Asia
This panel explored joint liability for wage theft within the greater brand accountability movement in the fashion industry through the lens of SB62, featuring key members of the coalition that developed and won the bill and advocates fighting for joint liability on brands in Asia.
PANELISTS
Nivedita Jayaram, Asia Coordinator, Asia Floor Wage Alliance
Marissa Nuncio, Executive Director of the Los Angeles Garment Worker Center
Ayesha Barenblat, CEO, Remake
Elizabeth L. Cline, Director of Advocacy and Policy, Remake
The discussion focused on how the pandemic reshaped and sharpened the movement for corporate accountability and dug into how SB62's specific legal approach was developed, the political and legal challenges to holding brands responsible for wages, and offered an exploration and comparison between SB62 and the Asia Floor Wage Alliance's work on legal liability for wage theft across Asia and joint liability's ability to work in other nations and states.
We discussed how and if these disparate projects for brand accountability can be brought together into a more cohesive global effort and how SB62 organizing techniques could be leveraged to secure rights for workers in other low-wage and fissured industries.
Event registration closed.
Date And Time
Registration End Date
22-February-2022
Watch video
Share With Friends
Organizer
Remake is a non-profit organization based in the USA and made up of a community of fashion lovers, women's rights advocates, and environmentalists on a mission to change the industry's harmful practices on people and the planet. They make sustainability accessible and inclusive across their three pillars of work: education, advocacy, and transparency.
The Asia Floor Wage Alliance (AFWA) was founded in 2007 as an Asian labour-led global labour and social alliance across garment-producing countries in Asia and consumer regions of USA and Europe. Founded in 2007, AFWA builds regional unity among Asian garment unions to overcome the limitations of country-based struggles in global production networks and holds global fashion brands accountable.