Pakistani garment workers, who were already severely affected by the wage theft during the Covid-19 pandemic and an unpredictable political environment, are now facing a fresh crisis after torrential rains this year submerged nearly a third of the country.
by Aabida Ali, Pakistan Country Coordinator, AFWA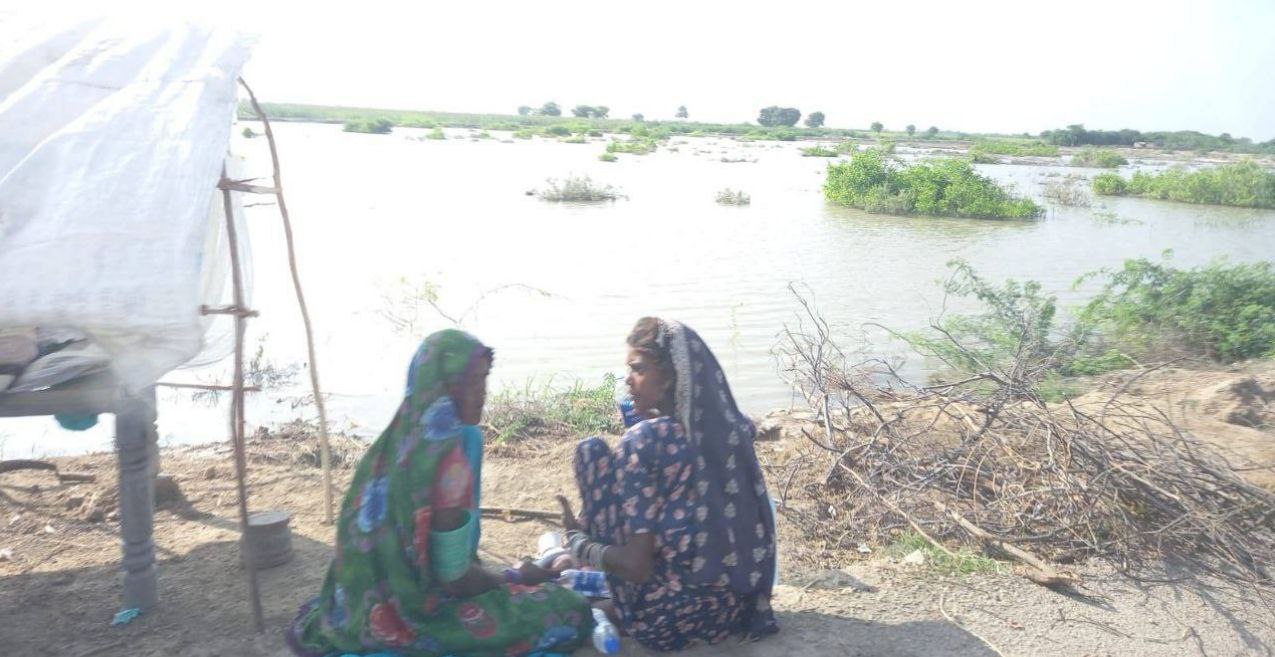 "Our miseries have worsened ten-fold since the floods. Everyone around me is going hungry. Even the cattle have no fodder." said Amira*, a textile worker, in tears, while standing outside her house, damaged beyond repair by the recent floods.
Even as Pakistan was reeling from severe political and economic crisis, textile workers and cotton farmers have been hit by devastating monsoon rains, with 192% more rainfall than the average amount. This has led to flash floods, killing nearly 1,700 people and displacing another 33 million others, or more than 15% of its 220 million population.
Over a million homes have been washed away and as much as 50% of Pakistan's cotton crop has been wiped out. Cotton cultivators and workers at farms have been pushed into hunger and poverty, with many resorting to begging to survive.
Garment workers, many of whom also harvest cotton, continue to face severe debt and the poverty-level wages they are paid in factories are too low – pushing them to the brink of starvation.
"People are cutting down on meals and women are unable to feed their children. Dengue is spreading, but no one has the savings to buy medicines or pay hospital bills. I fear we are going to see more deaths in the coming months," Amira added.
Garment workers in Pakistan are still reeling from some of the highest levels of wage theft in the Asian garment industry after a series of irresponsible practices by fashion brands during the Covid-19 pandemic, such as brands' refusal to pay for orders already delivered and the cancellation of orders for which suppliers had purchased inputs.
To add to this, the country suffered a macroeconomic collapse this year where an unsustainably large debt, skyrocketing inflation and depreciating currency culminated in the loss of billions of rupees of real income in a single year. Pakistan's volatile political situation hasn't helped either and the country has been on the verge of bankruptcy for the past year. While the noose has been slightly loosened thanks to an economic bailout from the International Monetary Fund (IMF), the miseries of the Pakistani working class are far from over.
"As textile workers and cotton farmers, our monthly income has always been insufficient to pay for any basic needs other than food and rent. We save nothing and we are constantly borrowing from money-lenders to meet even the smallest additional expense, even after working for over a decade," said Haider*, whose family members work both on cotton farms and in the textile industry.
Pakistan is the sixth largest producer of cotton in the world, and has the third-largest cotton spinning capacity in Asia, with thousands of ginning and spinning units producing textile products from cotton. However the industry is moving into a crisis, as climate change is severely affecting cotton cultivation – with unpredictable weather patterns causing floods like the recent one, increased pest attacks and extreme heat affecting the growing seasons.
"We are barely alive. In the last three months alone, my electricity bill has been exactly equal to my wages. Everything has become so much more expensive and I cannot even afford medicines for when my children fall sick," said Hussein*, a garment worker from Lahore.
As Haider states, although the textile and garment industry is the second largest employer in Pakistan, and garment sector exports account for nearly 70% of Pakistan's total exports – the situation of garment workers and cotton farmers has only worsened over the years. While workers continue to be denied their due wages, the prices of essentials like rice, oil and lentils have shot up.
"The biggest issue for us, garment workers, is that our income is insufficient to pay for even subsistence goods like food and fuel," reported Aaliya*, a garment worker from Lahore.
With inflation at an all-time high of 27% after the floods, the Pakistan Institute of Development Economics predicts that the loss of livelihood will result in a massive increase in unemployment, and garment and textile workers will be one of the worst affected.
Assistant Professor of Economics at Bucknell University, Dr. Shahram Azhar, in a seminar organised by Asia Floor Wage Alliance, in collaboration with the Labor Education Foundation (LEF) and Textile Power Loom Garment Workers' Federation, Pakistan, stated that the "displacement and devastation suffered by garment workers during the floods cannot be understood in isolation from the monopolistic power of global corporate fashion brands and must be seen as a failure of the global corporate system on Global South producing countries."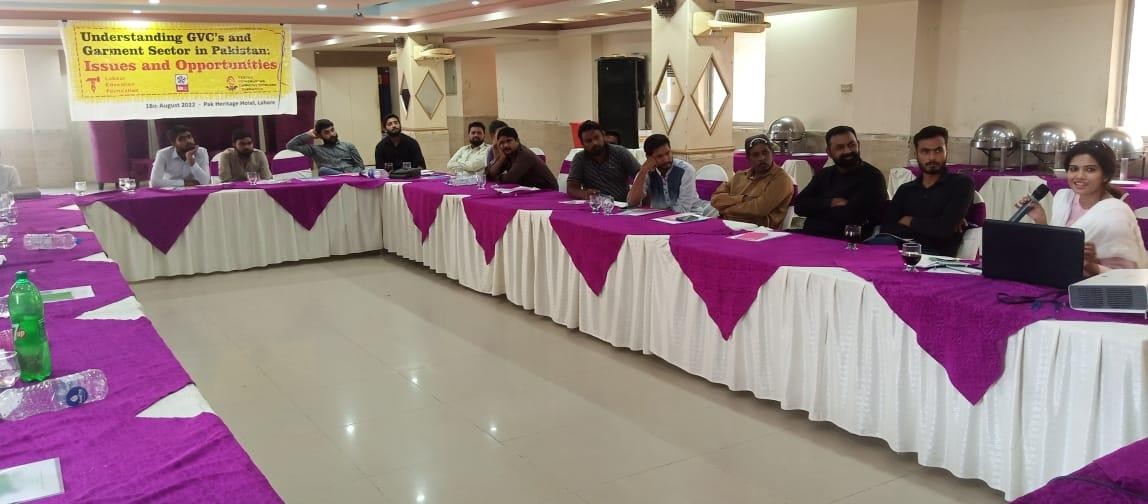 As workers from different cities reported, neither garment workers' wages nor total family income (of which wages form the major component) have proven adequate to meet the consumption requirements of their households, which were already at a minimum level.
"After the floods, as food prices increased, I spent all my money on food in the first two weeks of the month itself. I don't have any money to pay for my children's school fees. I hardly have anything to feed them. I feel like crying when I see their hungry faces. The government promised us that garment workers would get Rs 25,000 [USD 103.12] as a monthly salary. I want to ask them today – why am I being paid just half of that amount?" said Shaista*, a garment worker and single mother of two young children.
Wages are meant to enable a garment worker to afford food, fuel, medicines and send their children to school, i.e. to cover the costs of social reproduction of labour power. Fashion brands, however, refuse to cover the cost of social reproduction of labour power in their contracted factories, stating that they are not employers. However, what supplier factories and their workers do is to handover production carried out with brand-given designs and specifications, in exchange for the contracted payment. It is this contract nature of the relationship between brands and their supplier factories that makes the brands, along with suppliers, liable for meeting the costs of social reproduction of workers.
It is clear that despite producing clothes for the world's richest brands, garment workers are still forced into incurring debt to simply survive. Brands must take responsibility for the workers in their supply chain and pay them living wages. According to our report, "A living wage, as advocated by the Asia Floor Wage Alliance (AFWA), is meant to cover not just this cost of social reproduction incurred when the worker is not at work, but also the costs that are necessary for them to recuperate in order to return to work."
Living wages will ensure that another crisis, such as the Covid pandemic or Pakistan's latest floods, doesn't push workers further into poverty.
* Names of workers have been changed to protect their identity.
Asia Floor Wage Alliance (AFWA) helps garment workers in Asian producing countries to address poverty-level wages, gender discrimination and freedom of association. To support our efforts to build these worker-led networks, donate to AFWA — stating "Pakistan garment workers" in the Donation Notes.