OECD 2023 Side Session | Advancing Gender Justice in Asian Fast Fashion Supply Chains: Learnings from the Dindigul Agreement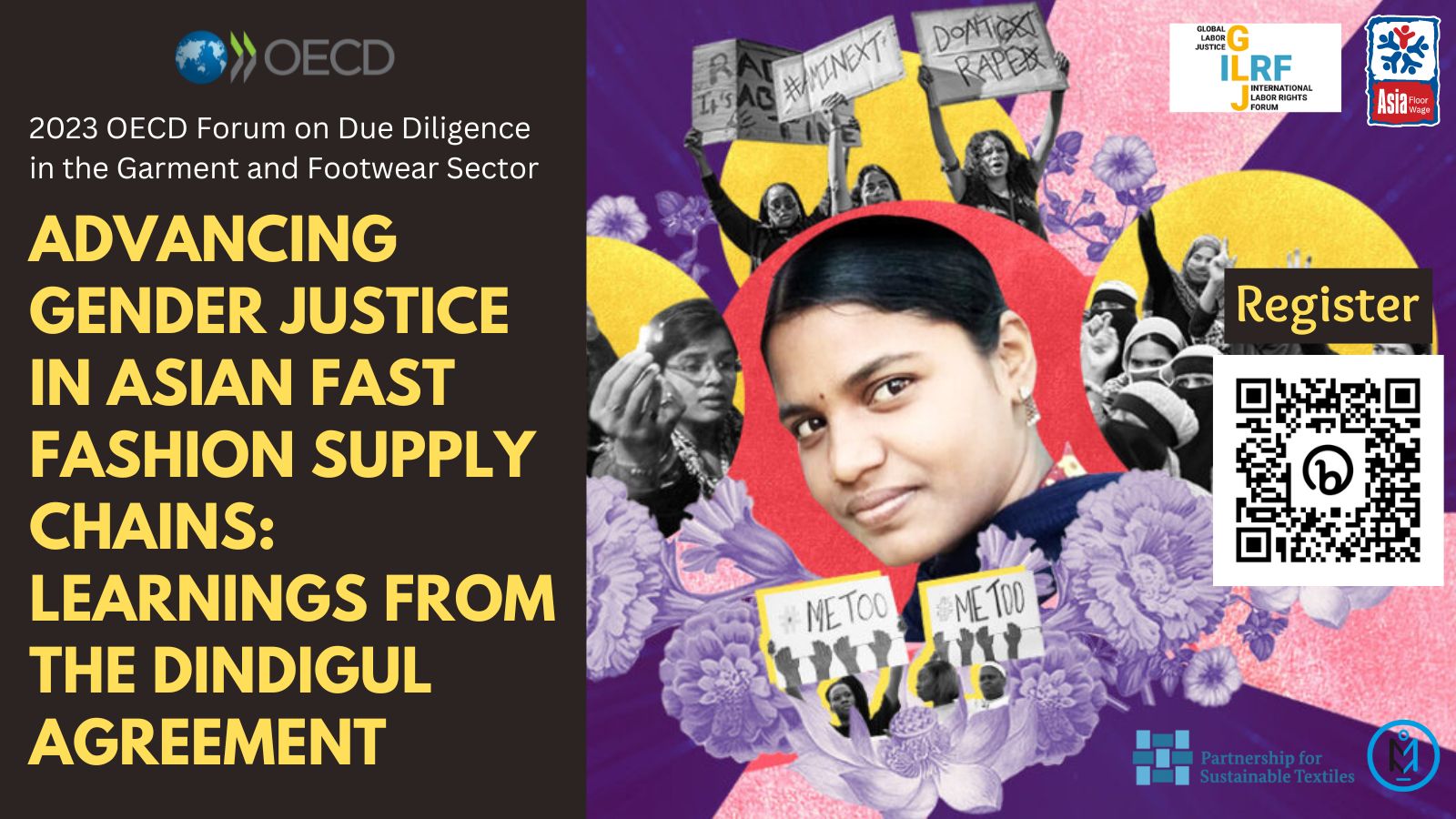 OECD 2023 Side Session | Advancing Gender Justice in Asian Fast Fashion Supply Chains: Learnings from the Dindigul Agreement
783
783 people viewed this event.
Despite numerous programs, initiatives and repeated calls for action, gender-based violence and harassment (GBVH) remains widespread in global supply chains of the fashion industry and little progress has been made so far. Will worker-led agreements be the game changer?
The Dindigul Agreement has been signed in April last year and it is the first legally binding brand agreement that seeks to address gender and caste-based violence in an Asian garment supply chain. This session will discuss the key learnings from the process of the development of the agreement, and the significant impacts the agreement has had on the factory floor through a trade union-led program, in improving both worker well-being and productivity.
Date & Time: 14th February 2023, 11.00 – 12.00 pm CET / 3.30 – 4.30 pm IST / 5.00 – 6.00 pm ICT  
Please join us for a presentation from the supporting organizations as well as a panel discussion with the different parties to the agreement.
The Side Session will start with an opening from the German Federal Ministry of Economic Cooperation and Development (BMZ) and a brief presentation of the Dindigul Agreement, its initial impact and lessons learned so far by the supporting organizations Asia Floor Wage Alliance (AFWA) and Global Labour Justice – International Labour Rights Forum (GLJ-ILRF).
The session will be moderated by gender expert, author and professor Jane Pillinger.
—
The 9th OECD Forum on Due Diligence in the Garment and Footwear Sector will take place on 16-17 February 2023 in a hybrid format. The Forum brings together representatives of government, business, trade unions and civil society to review progress on the implementation of the OECD Due Diligence Guidance for Responsible Supply Chains in the Garment and Footwear Sector to address emerging risks, and to share learnings on implementing due diligence across geographies in a neutral environment. The 2023 Forum will be accompanied by virtual side sessions organised and hosted by partner organisations. These sessions will take place in the lead-up to the Forum on 13, 14 and 15 February 2023. View the OECD Garment Forum's agenda.
Date And Time
Event Types
Share With Friends