Launch of a Global Tribunal: Equality and Justice for Women Workers | #CSW66 Side Event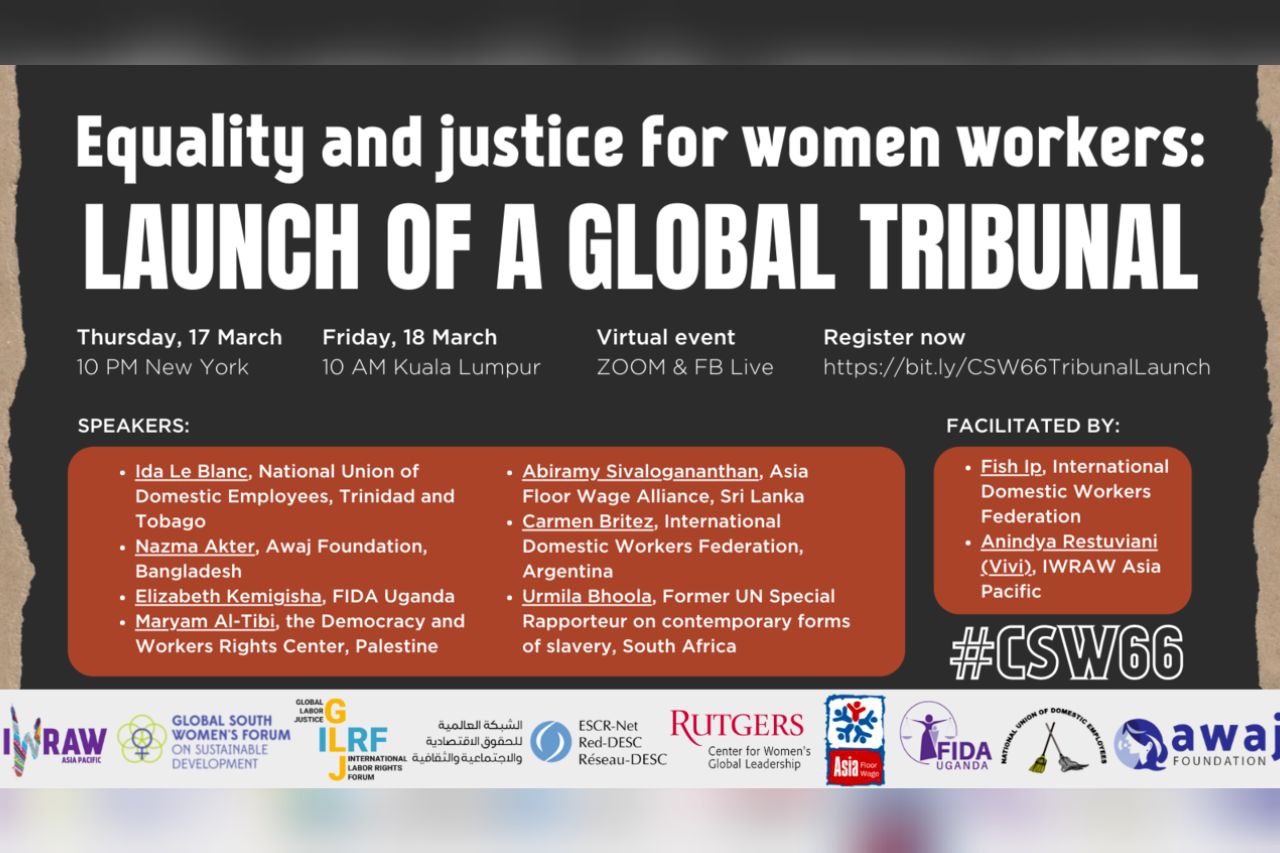 Launch of a Global Tribunal: Equality and Justice for Women Workers | #CSW66 Side Event
397
397 people viewed this event.
The disproportionate representation of women at the bottom of the global supply chains is a stark example of the systemic and entrenched gender discrimination embedded in existing economic and development systems. The COVID-19 crisis and its economic fallouts have reinforced the unsustainability of these systems. The immediate costs of this crisis are being borne by frontline workers, many of them in global supply chains and many of them women in the world of work.
The key objectives of the #CSW66 Side Event are to inform the content and procedure of the actual Global Tribunal. Accordingly, the key outcomes following this side event will be:
1. To map key actors in the accountability ecosystem and identify critical issues to be addressed by the tribunal
2. To identify objectives, desired outcomes and organizing processes
3. To facilitate solidarity within and across regions, movements and sectors, and extend the call for collective action
Date and Time: March 17, 10 PM EDT | March 18, 7:30 AM IST / 9 AM ICT
The Asia Floor Wage Alliance will be represented by Abiramy Sivalogananthan, the Sri Lankan Country Coordinator. She has worked extensively on gender and labor rights in the Sri Lankan garment industry. She is passionate about creating systemic change in global supply chains.
She will highlight the urgency of addressing the historical legacy of violation of women's labour rights in Asia. She will talk about the need for governance of supply chains in line with the United Nations Guiding Principles on Business and Human Rights and corporate accountability.
The event will be co-organized by IWRAW Asia Pacific's Global South Women's Forum on Sustainable Development and International Domestic Workers Federation (IDWF) and co-sponsored by Asia Floor Wage Alliance (AFWA); Global Labor Justice – International Labor Rights Forum (GLJ-ILRF); ESCR-Net – International Network for Economic, Social and Cultural Rights; Rutgers Center for Women's Global Leadership (CWGL); National Union of Domestic Employees (NUDE), Trinidad and Tobago; Awaj Foundation, Bangladesh; FIDA Uganda; and the Democracy and Workers Rights Center (DWRC), Palestine.
Event registration closed.
Date And Time
Registration End Date
18-March-2022
Event Types
Share With Friends