"Ratify C190: End All Forms of Violence In All Workplaces" | Regional Online Protest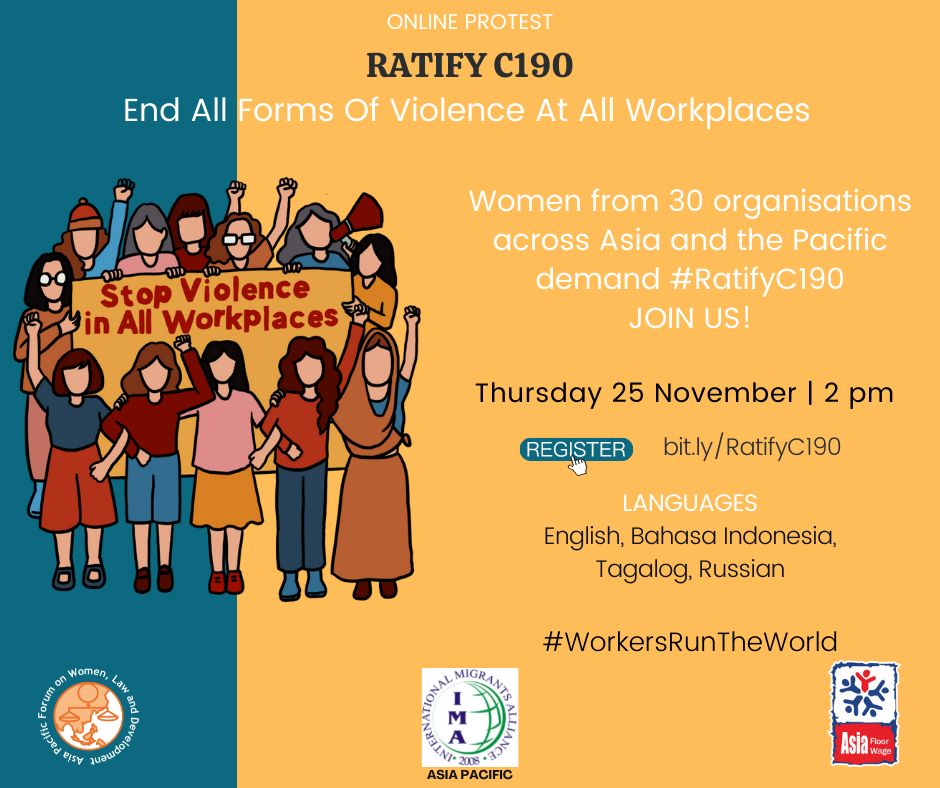 "Ratify C190: End All Forms of Violence In All Workplaces" | Regional Online Protest
326
326 people viewed this event.
An online regional protest to ratify ILO Convention 190, which aims to end all forms of violence in all workplaces
As the year 2021 was the first year of the implementation of the International Labour Organization's (ILO) first international treaty to address violence and harassment in the world of work – Convention No. 190 (C190), it is a crucial time for civil societies, trade unions, feminists, activists, women workers and migrants to come together to fight for a world free of all forms of violence. APWLD continues to work together with members and allies to campaign for the ratification and implementation of the ILO C190.
As a continuation of the May Day Solidarity action, in the 16 days of activism (November 25 – December 10), a series of actions and activities was conducted to fight against violence and harassment in all workplaces and create the collective power to push for the ratification and implementation of ILO C190 and Recommendation 206.
Organized by Asia Floor Wage Alliance (AFWA), Asia Pacific Forum on Women, Law and Development (APWLD) and International Migrants Alliance Asia Pacific
To register for this event please visit the following URL: →
Date And Time
Event Types
Share With Friends