The Pandemic Worker Wave and a New Social Compact: A Public Forum on Working-Class Prosperity in a Transformed World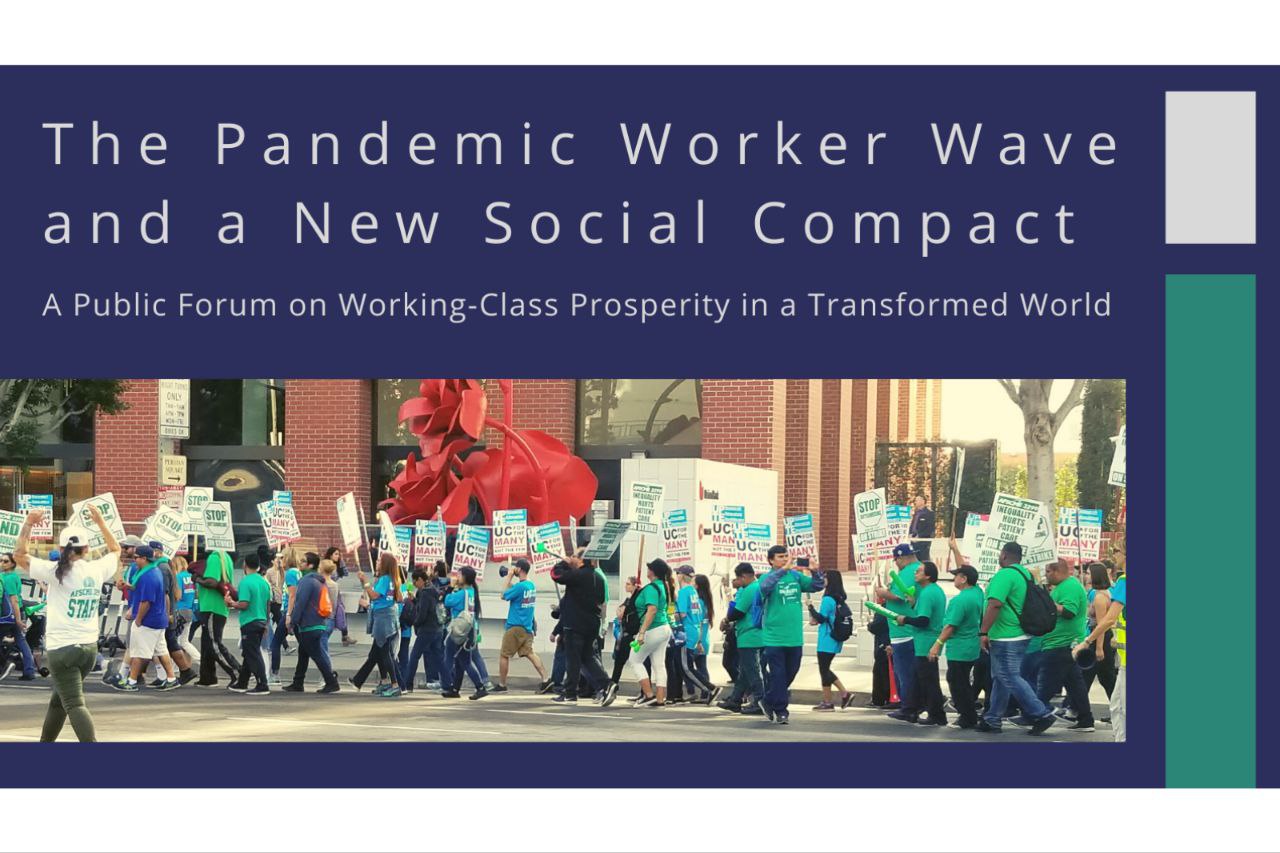 The Pandemic Worker Wave and a New Social Compact: A Public Forum on Working-Class Prosperity in a Transformed World
359
359 people viewed this event.
The Kalmanovitz Initiative for Labor and the Working Poor at Georgetown University will convene a major public virtual gathering entitled, "The Pandemic Worker Wave and a New Social Compact: A Public Forum on Working-Class Prosperity in a Transformed World," to explore and amplify the intersection of a fresh wave of global worker activism and new social compacts. The gathering will build on and expand the discussion launched at Constructing a New Social Compact, a major virtual gathering in 2021.
See more details about the public gathering here.
WATCH on Facebook: https://www.facebook.com/kilwp/videos/2149204678582740/
Date: June 2-3, 2022
Asia Floor Wage Alliance (AFWA) will be represented by its International Coordinator, Anannya Bhattacharjee, on a panel titled 'Rethinking Bargaining and Building Worker Power' on June 2 at 11 am EDT / 8.30 pm IST / 10 pm ICT.
The conference will feature activists, academics, faith leaders, policy experts, global labor activists, workers, philanthropists, labor organizations, elected leaders and others who will explore topics on building working-class prosperity in a post-pandemic world. The two-day event will see a selection of panels, workshops, presentations, individual talks, cultural offerings, and videos that will convey ideas around this theme.
Some or all of the meetings will be closed captioned and interpreted into languages other than English.
Date And Time
02-June-2022
to
03-June-2022
Event Types
Share With Friends
Organizer
Kalmanovitz Initiative for Labor and the Working Poor
Georgetown University's Kalmanovitz Initiative for Labor and the Working Poor develops creative strategies and innovative public policy to improve workers' lives in a changing economy. The Initiative draws on Georgetown's distinctive identity—its commitment to intellectual excellence, grounding in the Catholic and Jesuit traditions, history of inter-religious cooperation, global reach, and prominence as an arena of policy debate in the nation's capital—to advance prosperity, broadly-shared economic justice, and respect for the dignity of labor. Founded in 2009, the Kalmanovitz Initiative was created as a space to engage questions of workers' rights and the future of the labor movement. Since then, the KI has taken on special projects that explore policies supporting workers' rights, coalition building between labor and community groups, and connecting students to local advocacy and organizing opportunities.
Global Labor Justice-International Labor Rights Forum (GLJ-ILRF)
Global Labor Justice-International Labor Rights Forum (GLJ-ILRF) is a newly merged organization that brings the strategic capacity to cross-sectoral work on global value chains and labor migration corridors. GLJ-ILRF holds global corporations accountable for labor rights violations in their supply chains; advances policies and laws that protect decent work and just migration; and strengthens freedom of association, new forms of bargaining, and worker organizations.
The Asia Floor Wage Alliance (AFWA) was founded in 2007 as an Asian labour-led global labour and social alliance across garment-producing countries in Asia and consumer regions of USA and Europe. Founded in 2007, AFWA builds regional unity among Asian garment unions to overcome the limitations of country-based struggles in global production networks and holds global fashion brands accountable.