Low Workers' Pay in Fashion: Is There a Way Out? | Sustainability Conclave 2022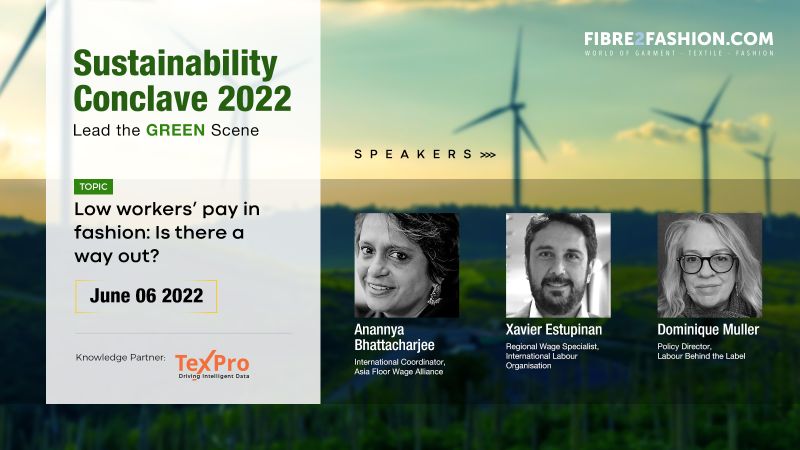 Low Workers' Pay in Fashion: Is There a Way Out? | Sustainability Conclave 2022
56
56 people viewed this event.
Sustainability – it isn't just an option anymore, but our best bet for the future. Over the years, the concept has evolved and is now increasingly becoming a part of business processes and thinking. It is no longer an elusive abstract concept mutually exclusive from profitability.
The sustainability call for the textile, apparel, and fashion industry will involve a rethinking of all three aspects – technology, consumer demand, and supply chain (sourcing). Financial constraints also remain a major problem, particularly in the less-advanced countries. The COP26 summit gave an opportunity to the industry to reflect on its darker side, and perhaps gave a clarion call for all stakeholders to participate for a sustainable future.
In this context, Fibre2Fashion brings its first-ever Sustainability Conclave 2022 to bring the industry together on this subject. This will provide a platform for organizations and brands in the textiles-apparel-fashion industry to showcase their sustainability efforts to the world. This is our way to celebrate World Environment Day on June 5th and take one step closer to a better tomorrow.
The two-day virtual conference is titled "Low Workers' Pay in Fashion: Is There a Way Out?" and will be held on June 6-7, 2022 from 11 am – 5 pm IST / 12.30 pm – 6.30 pm ICT.
Asia Floor Wage Alliance (AFWA) will be represented by its International Coordinator Anannya Bhattacharjee on a panel with Xavier Estupinan, Regional Wage Specialist, International Labour Organization; and Dominique Muller, Policy Director, Labour Behind the Label.
#Fibre2fashion #f2f #sustainability #textileindustry #apparel #slowfashion #sustainabilityconclave #fashion #f2fgoesgreen #f2fsustainabilityconclave2022 #virtualsummit #biodegradable #ecofriendly #industryspeakers #f2fvirtualsummit2022
Date And Time
06-June-2022
to
07-June-2022
Event Types
Share With Friends
Organizer
Built with an aim to bolster and serve the textile fraternity, Fibre2Fashion Pvt. Ltd is a market driven B2B portal that marked its existence in the year 2000 and since then, has consistently been growing leaps and bounds. Our rich experience, commitment, accountability and innovations have helped to foster the business of small, medium and large companies and enterprises associated with us. With digital presence in more than 190 countries we have been able to carve a niche for ourselves in the industry. With 1800+ products listed under 13 different categories, we have successfully been able to serve all the segments of the textile, apparel and fashion industry. Besides providing effective business solutions, we also offer textile based information through our informative articles, news, market analytical reports on fibre and feedstock and various print features too. With global recognition and technical expertise, we have been able to render clear visibility to our clients' products and have helped them to reach the right target customers.