Low Workers' Pay in Fashion: Is There a Way Out? | Sustainability Conclave 2022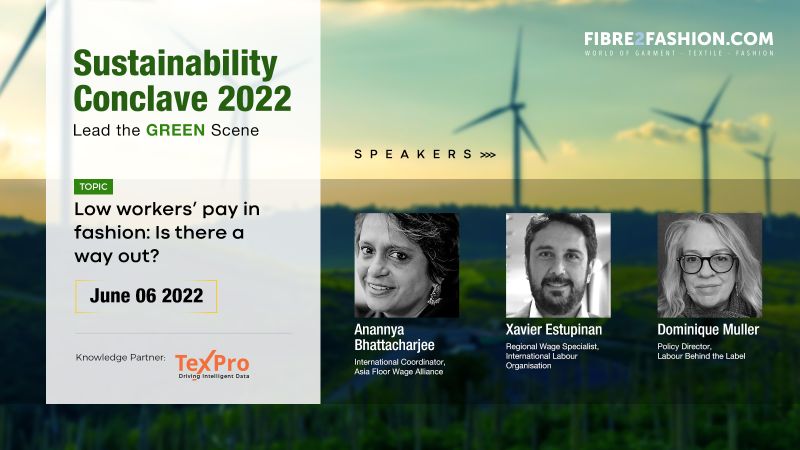 Low Workers' Pay in Fashion: Is There a Way Out? | Sustainability Conclave 2022
523
523 people viewed this event.
Sustainability – it isn't just an option anymore, but our best bet for the future. Over the years, the concept has evolved and is now increasingly becoming a part of business processes and thinking. It is no longer an elusive abstract concept mutually exclusive from profitability.
The sustainability call for the textile, apparel, and fashion industry will involve a rethinking of all three aspects – technology, consumer demand, and supply chain (sourcing). Financial constraints also remain a major problem, particularly in the less-advanced countries. The COP26 summit gave an opportunity to the industry to reflect on its darker side, and perhaps gave a clarion call for all stakeholders to participate for a sustainable future.
In this context, Fibre2Fashion brings its first-ever Sustainability Conclave 2022 to bring the industry together on this subject. This will provide a platform for organizations and brands in the textiles-apparel-fashion industry to showcase their sustainability efforts to the world. This is our way to celebrate World Environment Day on June 5th and take one step closer to a better tomorrow.
The two-day virtual conference is titled "Low Workers' Pay in Fashion: Is There a Way Out?" and will be held on June 6-7, 2022 from 11 am – 5 pm IST / 12.30 pm – 6.30 pm ICT.
Asia Floor Wage Alliance (AFWA) will be represented by its International Coordinator Anannya Bhattacharjee on a panel with Xavier Estupinan, Regional Wage Specialist, International Labour Organization; and Dominique Muller, Policy Director, Labour Behind the Label.
#Fibre2fashion #f2f #sustainability #textileindustry #apparel #slowfashion #sustainabilityconclave #fashion #f2fgoesgreen #f2fsustainabilityconclave2022 #virtualsummit #biodegradable #ecofriendly #industryspeakers #f2fvirtualsummit2022
Date And Time
06-June-2022
to
07-June-2022
Event Types
Share With Friends