Bangladesh Trade Unions Demand Minimum Wage Hike – Solidarity Event | AFWA Bangladesh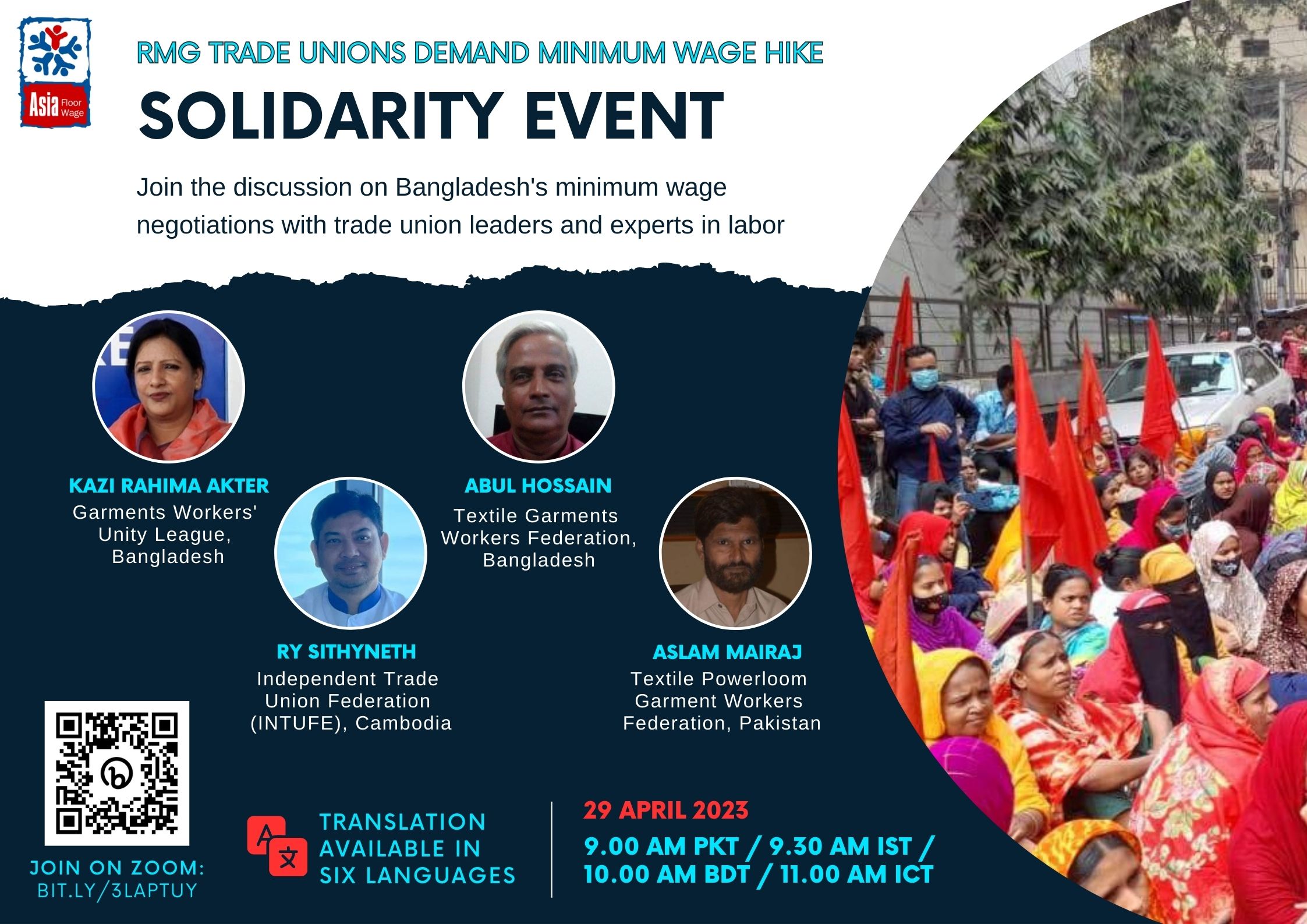 Bangladesh Trade Unions Demand Minimum Wage Hike – Solidarity Event | AFWA Bangladesh
730
730 people viewed this event.
The Asia Floor Wage Alliance (AFWA) – Bangladesh is inviting you to join an online discussion with trade union leaders and labor experts on the upcoming minimum wage negotiations in Bangladesh for the ready-made garment (RMG) industry.
Time: 04:00 UTC (9.00 AM PKT / 9.30 AM IST / 10.00 AM BDT / 11.00 AM ICT)
WATCH IT AGAIN HERE: https://fb.watch/kkCmr8BBz_/
Bangladesh conducted its last minimum wage negotiations five years ago in 2018. Despite being the second-largest manufacturer and exporter of garments in the world, garment workers are still being paid a wage that covers only a fraction of their daily expenses and that of their families.
In the past five years, workers' purchasing power has halved, pushing them to the brink of survival, as the prices of daily essentials skyrocketed, the Covid-19 pandemic hit, and their work hours got longer. Insufficient wages means that a worker has less money to feed themself a nutritious diet and eat enough meals in a day. This has resulted in the decreased efficiency of the worker, while they are expected to meet the same or higher daily targets. This also means that their children have had to drop out of school and join a second job to supplement their parents' income.
In 2021, AFWA Bangladesh conducted a comprehensive consumption survey after talking to over 300 garment workers from 63 factories in Bangladesh and the results were shocking. We documented unethical practices – such as layoffs, non-payment of overtime, unfair terminations, and lack of necessary protective measures against the Covid-19 virus or social security benefits for workers – by fashion brands and suppliers during the pandemic to maximize profits. In order to survive, workers downgraded their lives to survive on their reduced wages.
It is crucial that a sufficient minimum wage is fixed to enable workers to have stability and security in their lives. AFWA Bangladesh is supporting RMG trade unions in their demand to increase the minimum wage from BDT 8,000 (USD 95) to within the range of BDT 22,000 – BDT 24,000 (USD 207 – USD 226).
Date And Time
Event Types
Event Category
Share With Friends