Press Conference: Release of New AFWA Report x Bangladesh Minimum Wage Discussion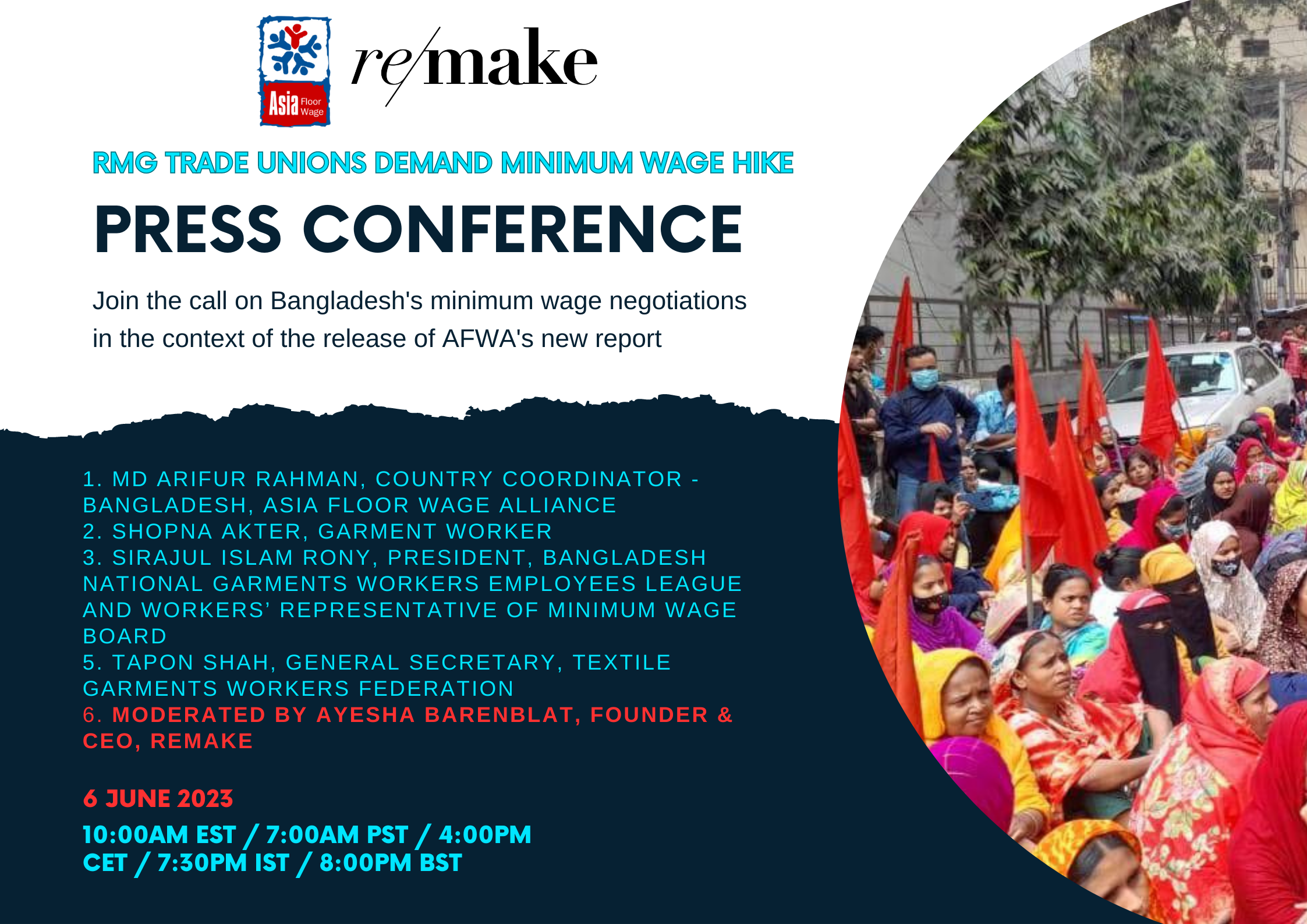 Press Conference: Release of New AFWA Report x Bangladesh Minimum Wage Discussion
657
657 people viewed this event.
Please join the Asia Floor Wage Alliance (AFWA) and Remake as they unpack a new report on workers' consumption data in Bangladesh and share more information on the fight for workers' rights to living wages and better working conditions.
Date: Tuesday, June 6th
Time: 10:00am EST / 7:00am PST / 4:00pm CET / 7:30pm IST / 8:00pm BST (Bangladesh Standard Time)
During the call, you will hear from:
1. Md Arifur Rahman, Country Coordinator – Bangladesh, Asia Floor Wage Alliance
2. Shopna Akter, Garment Worker
3. Sirajul Islam Rony, President, Bangladesh National Garments Workers Employees League and Workers' Representative of Minimum Wage Board
5. Tapon Shah, General Secretary, Textile Garments Workers Federation
6. Moderated by Ayesha Barenblat, Founder & CEO, Remake

The new report, conducted by Asia Floor Wage Alliance, Towards a Woman-Centered Living Wage Beyond Borders, reveals that garment workers are consuming less food than the poverty-level caloric standard set by the Bangladesh government. Moreover, the total expenditure of the surveyed workers' families is higher than their income, even with two earners working in the garment industry. This inadequate food intake and deficit spending undermine the health and safety of workers and their families.
Garment workers are the backbone of Bangladesh's economy. The more than 4.4 million predominantly women workers employed by Bangladesh's garment sector have helped make the country the second largest exporter of ready-made garments (RMG) globally, with the sector contributing over 11% to the country's GDP. Despite the steady growth of RMG exports over the last five years, industry profits have not been shared with workers, who have been pushed to extreme poverty and hunger following years of low wages and little to no savings, against the backdrop of rising costs and inflation.
The release of the report is quite timely as minimum wage negotiations are currently taking place in Bangladesh for the first time in five years. In 2018 the last negotiations set the minimum wage at a meager BDT 8,000 (USD 95). Bangladeshi garment workers and their families have been struggling to survive on poverty-level wages, while at the same time facing multiple crises.
The Asia Floor Wage Alliance (AFWA) – Bangladesh, and Remake, along with a growing number of RMG trade unions, are supporting workers in their demand to increase the minimum wage from BDT 8,000 (USD 95) to within the range of BDT 22,000 – BDT 24,000 (USD 207 – USD 226). Additionally, workers and their unions are calling for an annual negotiation process to update the minimum wage in line with rising inflation rates.
Please refer to AFWA's statement and 2023 report for more information.
To register for this event please visit the following URL: →
Share With Friends